Manassas Virginia Dumpster Rentals, Asphalt Paving and Concrete Paving
BPCC is proud to offer quality dumpster rentals, dumpster delivery, dumpster pick-up and turn-key projects in Manassas VA. Locally owned and operated for almost 40 years, we work hard to provide our customers with their paving and concrete needs at competitive rates.
Manassas VA BPCC Services Include:
PAVING - Asphalt & Concrete Paving - Resurfacing - New Construction - Design
REPAIR - Patching - Crackfilling - Coldmilling - Cement Stabilization - Storm Drain Repair
MILLING - Removing asphalt and aggregate base
COATINGS - Sealcoating to keep asphalt surfaces in good working condition
STRIPING - Linestriping for streets and parking lots
CONCRETE - Flatwork - Curb and Gutter - Industrial Applications
FEATURES Color - Decorative - Openings - Additions
DEMOLITION & REPAIR Rehabing cracked or unsightly slabs, sidewalks, steps, patios - driveways, and more
CLEAN UP Remove Trash & Debris
ONSITE SERVICES - Patios - Driveways - Footing - Slabs - Walkways - Design - Layout - Anchors Drains
PROJECTS Bike Paths - Greenways - Pedestrian Trails - Playgrounds
GRADING/UTILITIES - Grading - Siteworks - Utilities
DUMSTER RENTAL - New Construction- Tear Down- Land Clearing
READY MIX CONCRETE - We do not sell Ready Mix Concrete
and more.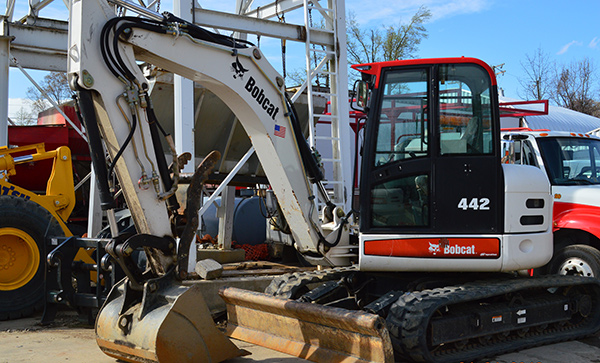 Our company employs a strong and dedicated crew of superior machine operators and supervisors, using the best equipment available to do the job professionally and correctly in Manassas VA.
We have all the necessary equipment for any scope of work!

With our extensive fleet of heavy equipment, we can clear trees and rubble, move dirt, haul away debris, level areas with great accuracy, dig, trench and refine ditches and drainage areas, prepare with curbing and sidewalks, and of course, complete the job in Manassas VA with a beautiful layer of asphalt paving or concrete.
Contact us today for an estimate on your Manassas VA residential or commercial project or larger operation. No job is too big or too small for us. We'll be there for you!
Professional quality asphalt paving, concrete paving, dumpster rentals, site work jobs, and turn-key projects in Manassas zip codes 20109, 20110, Wellington, Buckhall 20111, Independent Hill 20112, Nokesville 20181